News & Events Around
The Claiborne Mansion
---
Creole Tomato Festival
French Market's Annual Creole Tomato Festival
June 8, 2013
8-5pm
Free
Just a short walk from the Mansion in the historic French Market
www.frenchmarket.org/event/annual-creole-tomato-festival/
Greek Festival 2013

Greek Festival New Orleans 2013
Memorial Day Weekend
May 24, 25, and 26, 2013
www.greekfestnola.com
The Accidental City: Improvising New Orleans

The Accidental City: Improvising New Orleans
Lawrence N. Powell
www.amazon.com/Accidental-City-Improvising-New-Orleans/dp/0674059875
Jonathan Yardley of the Washington Post wrote:
"Powell … has written in 'ÄúThe Accidental City'ÄĚ what should stand for years as the definitive history of New Orleans'Äôs first century, the period that he regards as central to the city'Äôs formation and its character." (Read the complete review.)
Photo of Lawrence N. Powell by Chris Granger/ The Times-Picayune
Lagniappe
*
You can stay up-to-date with events around New Orleans at NOLA.com.
And if you're looking for information on the best food and restaurants in New Orleans, then visit The New Orleans Menu at NOMENU.com.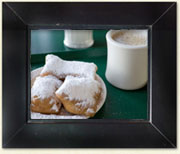 * Lagniappe (pronounced LAN-yap) is something given or obtained gratuitously or by way of good measure (such as getting a 13th doughnut when buying a dozen).