News & Events Around
The Claiborne Mansion
---
Girls Gone Vegan

Mornings at the Claiborne Mansion begin with granola and banana nut bread from Girls Gone Vegan: a gluten free and vegan bakery in New Orleans, LA. They offer a large variety of breakfast items as well as cookies, cakes and breads — and they deliver locally!
Visit their website to learn more (and place an order for your stay):
www.girlsgonevegannola.com
Good Bones

"Good bones" despite being one of the most overused phrases when referring to old houses happens to be nonetheless accurate with The Claiborne Mansion. The house is well built, lovingly (and continually) renovated, and a beautiful piece of history that we love being able to share with you.
We thought you'd enjoy seeing a little behind-the-scenes glimpse of the house so we recently asked Richard Sexton to photograph the exposed rafters and typically off-limits areas of the attic. We discovered a few beams with what may be "carpenter's marks" also known as "marriage marks" – Roman numerals or other symbols carved into rafters to match joints of timber framing. You can learn more about them at the Historic House Blog.
We'll be sharing more photos and history of the house soon.
Creole World: Photographs of New Orleans and the Latin Caribbean Sphere

Wonderful new book by Richard Sexton published by The Historic New Orleans Collection:
In Creole World, that old New Orleans greeting " How's your mama an' nem" gains depth and resonance. We learn that "an nem" includes our cousins in Haiti (cozen nou an Ayiti), our uncles in Cartegena (nuestros tios), our aunts in Cuba, (nuestras tias), and a wealth of other friends and relations in Panama. By depicting these connections so beautifully in pictures and words, Richard Sexton has made the Creole world at once larger, smaller, and better.
—Lolis Eric Elie, writer for HBO's Treme and coproducer/writer of Faubourg Treme: The Untold Story of Black New Orleans
Kids Tour Too

Educational and entertaining tours of the French Quarter designed just for kids (6–13 years).
French Quartour Kids
For more information visit:
www.frenchquartourkids.com
Trace the Footsteps of Regional Writers

Although the Crescent City is most renowned for its music, cuisine and architecture, New Orleans' literary heritage is as significant as that of any American city. Trace the footsteps and visit the inspirational haunts of the regional writers who have defined literature itself.
New Orleans Literary Tour (Walking Tour) by Reservation Only
For more information visit:
www.tourneworleans.com/literary_set.html
The Accidental City: Improvising New Orleans

The Accidental City: Improvising New Orleans
Lawrence N. Powell
www.amazon.com/Accidental-City-Improvising-New-Orleans/dp/0674059875
Jonathan Yardley of the Washington Post wrote:
"Powell … has written in "The Accidental City" what should stand for years as the definitive history of New Orleans's first century, the period that he regards as central to the city's formation and its character." (Read the complete review.)
Photo of Lawrence N. Powell by Chris Granger/ The Times-Picayune
Lagniappe
*
You can stay up-to-date with events around New Orleans at NOLA.com.
And if you're looking for information on the best food and restaurants in New Orleans, then visit The New Orleans Menu at NOMENU.com.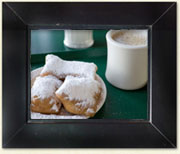 * Lagniappe (pronounced LAN-yap) is something given or obtained gratuitously or by way of good measure (such as getting a 13th doughnut when buying a dozen).